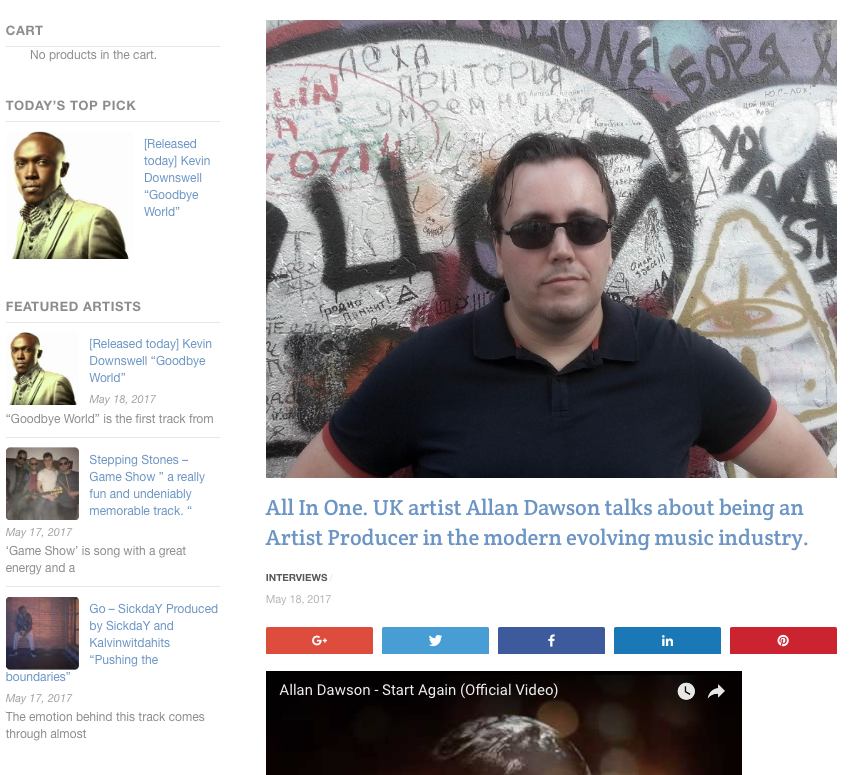 Independent music review website Exposed Vocals just published an interesting interview with me, on the subject of working as an Artist Producer in today's music scene.
Read the full interview here >>
Exposed Vocals: So tell us your story. Where did you grow up? What made you decide to become an artist? 
I grew up in Colwyn Bay, North Wales. I was always musical as a child and was lucky enough to get an early start playing in a busy high school rock band that gigged quite a lot and allowed me to learn about performing, recording and songwriting, from a reasonably early age. We were into just about everything, mostly doing covers to explore our own styles. I was the lead guitarist at that time, also a backing singer and band manager. 
I booked the band some studio time and indirectly ended up learning how to be a studio engineer - which although it wasn't the original reason for booking the studio, it was probably the most productive outcome! Several more band projects followed with more recording sessions along the way, developing my songwriting and production skills. The bands each ended up splitting as they usually do, but throughout this journey I amassed a collection of songs that I wanted to record and tout around as examples of my songwriting work. So, I invited a few other musician friends to participate, together with a very talented engineer friend, Martin Wilding, who co-produced the recordings with me. 
In particular, I had three vocalists lined up who I wanted to use on different tracks, each of whom had different styles and qualities that suited certain tracks well. Disaster struck when all three vocalists pulled out of the project due to illness, travelling or other commitments. This actually became the turning point for me, because I had no option but to sing the tracks myself, or else the studio time would have been wasted. Martin felt my performances had a unique rock voice character and encouraged me to consider continuing my work as a solo artist. I hadn't really thought about what I was doing in this context before, because I had always been a "band guy", but the result was that I took his advice and released the recordings as my first solo album Killing Time. 

Exposed Vocals: Since everyone was a start-up once, can you give any smaller or local bands or artists looking to get gigs and airplay some tips? 
Wow, good question! The world and the music scene in general have changed dramatically since I started out, so the tips I would give to any new act now are a bit different than the advice I might give my younger self if I met myself in some hypothetical time-cafe! If that makes sense? The biggest change is social media, which I think completely overshadows the changes in the music scene itself from internet/digital media etc. Some key things haven't changed and these are: 
Be good at what you do - practice hard and get your sound right - be impressive in front of your audience; and 
Getting interest from other people who want to work with you (venues/radio/etc) is driven by having a good loyal following (and being impressive in front of them) 
You can be a lot more individual now than ever before in terms of your musical style and/or image etc because we aren't all competing to be on the same platform like the old music biz where only five people could be in the public eye at any time - but you still need to be impressive to catch anyone's attention, maybe more so now than ever, so work on that always! 
The second big thing comes back to my first comment about Social Media - it's very new, its constantly changing, but in this day and age you're exactly nobody unless you learn how create a "pulse" around your projects. The secret is "little and often" - keep regular, two liner snippets coming though - don't be silent for weeks then suddenly blast out a 50 page blog, its an audience killer! Cut up the points from that mega essay and just drip-feed them out over the next few weeks until the next interesting new stuff comes along. There's lots of advice out there so keep trying new things, but don't exhaust all your ideas quicker than you can think up new ones! 

Exposed Vocals: Do you ever make mistakes during performances? How do you handle that? 
Oh hell yeah! Haha! I am terrible for forgetting lyrics - especially my own, but I have a reasonable skill for ad-libbing which sometimes makes up for it. Other kinds of mistakes like screwing up a performance by playing the wrong chords or wrong part etc are quite rare but when they happen you are best laughing them off and carrying on. Occasional wrong chords etc are annoying because they play on our own minds heavily as performers even though sometimes the audience didn't even notice - so just carry on and don't worry about it! The key is to rehearse enough to minimise mistakes to a level where they aren't going to be memorable enough to ruin the overall show, but be able to shrug them off if they do happen. Quite a useful tip when soloing - I am quite experienced as an improvisational soloist because it's where I started from when I learned to play guitar - but sometimes you can be caught up in the middle of a big schwing moment when you land on an awful bum-note that really sticks out. In this sort of situation I have found the easiest solution is to simply repeat the same mistake - then it stops sounding like a mistake and starts sounding like some kind of artistically intentional discord!!! At least that's my story and I'm sticking to it! Hahaha! 

Exposed Vocals: Do you tour? Anything interesting happen on tour that you think our readers would enjoy hearing about? 
I love gigging although recently I have been more involved in the studio side working on the next album, plus the other work I do outside of music is also very demanding, so I tend to do gigs quite sporadically these days, rather than structured touring, but I am sure that will change at some point. Four or five of my gigs recently were out in Russia, which was quite an eye opener - they just love rock music out there and are great audiences. So the best tip I can pass on from that is don't let other people's preconceptions about potential audiences colour your willingness to explore them and go play to them - it's relatively cheap to travel to other countries these days and you can start building connections with your audiences that extend beyond what you can do in your local town. But you don't need to go nuts, you can be frugal - I just took my acoustic guitar and a capo, that was it! 

Exposed Vocals: Any planned studio upgrades? What are you working with now? 
Oh yeah I am a real techie when it comes to studios, but what interesting now is that the "upgrades" I make these days are actually more like simplifications. My first album Killing Time was recorded on an Allen & Heath mixing desk into reel to reel tape, with dozens of bits of outboard gear, the second album Start Again was started off on ADAT tapes with a digital desk, by by the time it was mixed it was digital outboard hard disk recorders mixed from a Power Mac. These days the latest album is all happening inside an iMac - the Mac has been upgraded but I use very little extra - I am happy with most of the stock plugins in Logic Pro X (now that I finally got my head round the jump from Pro to Pro X) and other than that I just use a Focusrite preamp unit - I hardly ever use my outboard for anything and generally speaking I don't even use a guitar amp any more - just plug straight in and capture the performance. I find this gives much more flexibility in the production/mixing stage. 

Exposed Vocals: How do you find ways to promote your music? What works best for you? 
Well this is the million dollar question at the moment - I think the best answer is going to keep changing month by month for years to come, but I think the main thing is to focus on reaching individual people and forget about trying to emulate some Rolling Stone magazine 1990's pop star idea of mass marketing to some imaginary audience - market to the people you already know care about what you do and let it grow from their. Dare I say it, targeted marketing in platforms like Facebook is very effective at doing this sort of thing, but you can be clever, you don't need to pay for everything all the time. 

Exposed Vocals: If you could perform anywhere and with any artists (Dead or Alive) where and who would it be with? Why? 
Pink Floyd live in Pompeii. Even though there was no audience, that event was like a sacrificial offering of music to the cosmos! I'd probably invite some people to come and watch though! 

Exposed Vocals: So, what's next? Any new upcoming projects that you want to talk about? 
Yeah, my new album Reflections of Your Face is  gradually nearing completion. It's a big project musically and it has taken a few years on and off to work on - I released a preview EP on my website Reflections Sessions EP which contains some taster tracks, although some of these have already changed quite a bit since then. I don't want to put a date on it, because I don't work that way these days, but it's definitely has good momentum now and should be finished soon! 
One other thing I sort of pioneered with in he last few weeks is I have upgraded my most recent album offering Start Again so that the digital download includes a Busker's Guitar Chords book of every song on the album. At the moment this is only available with downloads from my own website allandawson.com although I hope to roll it out to the other platforms soon and maybe even make it a standard feature of all my releases in future. 

Exposed Vocals: If you weren't making music, what would you be doing? 
I would likely be delving into some of my other creative projects which include video editing and CGI and I suspect I would also be carrying on with my other main job as an Airline Pilot.

Exposed Vocals: What should fans look forward to in the next year or so? 
Keep an eye on my website, follow me on Facebook and YouTube where I will be putting out snippets of work on the upcoming Reflections of Your Face album. As soon as that's finished of course, I am itching to get out there and play live again. I love working in the studio but it gets a bit claustrophobic at times and I can't wait to put my new music ideas in front of live audiences soon. 

Exposed Vocals: Any Shout-outs? 
Yeah completely off the top of my head I'd like to thank the following people who have focussed my interest in recent times to keep up the good work: Trevor Tweedy, the band Shrödingers Strings for their support and interest and Mark Markin from Tactica Concerts and most importantly thanks to my family for putting up with my broad ambitions!